Richard Pryor
"Who believed in you? Who cared for you?" asked TV interviewer Barbara Walters in 1979, probing comedian Richard Pryor about his childhood.
Pryor's response was heartbreakingly evocative: "Richard Franklin Lennox Thomas Pryor the Third. And magic dust." Growing up in Peoria's red light district, the young Richard felt radically alone, with nothing to rely upon but himself and what his imagination could conjure. He learned much from his grandmother Marie, who took care of him in her fashion, but it was his imagination—the "magic dust"—that became his constant companion, and it was his imagination that propelled him to the stage.
The Cradle of North Washington Street (1940-1945)
Richard Pryor was born December 1, 1940, in Peoria's St. Francis Hospital, to LeRoy "Buck" Pryor and Gertrude Thomas. There was no birth announcement in the local newspapers because Pryor's parents were unmarried and the papers did not trumpet births that could not be attached to a "Mr." and "Mrs."
He grew up, at first, in a brothel run by his grandmother Marie, in which his father worked as a pimp and his mother as a prostitute. On one level, his home life schooled him in cynicism. "I saw my mother turn tricks for some drunk white man when I was a kid. I saw my father take the money, and I saw what it did to them," Pryor said later in a 1977 interview.
At the same time, the neighborhood of North Washington Street, a red light district adjacent to downtown, was a lively place where many taboos—such as the one on the "mixing of the races"—were relaxed. At the Famous Door, the tavern that the Pryor family opened in the mid-1940s, the young Richard was witness to scenes of drunken brawling, camaraderie, and conviviality that left their mark on his psyche and his imagination.
"Apparently Unstable Emotionally" (1946-1952)
In early 1946, Richard's mother Gertrude filed for divorce from his father Buck and, in a decision that had far-reaching consequences, the judge in the case awarded full custody to his father. In the immediate future, rather than move to the home of his maternal grandparents on the outskirts of Springfield, Illinois, he would continue to live in the North Washington district. For the rest of his life, Richard would identify with the paternal side of his family, the Pryors, with their brothel-level view of human appetites and folly.
A few months after his parents' divorce, Richard's kindergarten teacher scheduled a conference with his parents. The topic: Richard was "apparently unstable emotionally." (According to his memoir, he was also sexually molested around this time by a local teenager.) Richard muddled through his first years as a student, his conventional schooling little revealing the unconventional talent he held within himself. When he was given an IQ test at the age of 7, he scored exactly 100—perfectly average. He was anything but.
Black on White (1952-1954)
When the construction of a bridge connecting Peoria to East Peoria spelled the end of the North Washington Street neighborhood, Richard moved with his grandmother to the 2400 block of South Adams Street, in an underdeveloped part of town that had few black residents. The switch of neighborhood meant that Richard was soon enrolled in Blaine-Sumner, a nearly all-white elementary school, where he struggled to find his place.
Since the mid-1940s he had been a devotee of the silver screen, entranced by the likes of John Wayne and Red Skelton and, especially, Lash LaRue, a B-western star who sported a whip rather than a gun, dressed in black from head-to-toe, and sometimes turned his films into exercises in camp. In 1952, he saw his first Jerry Lewis film—Sailor Beware—and fell in love with Lewis's example: the man-boy persona, the mix of kinetic energy and affected clumsiness. He started developing pantomimes to ingratiate himself with his Blaine-Sumner classmates at recess.
Richard's sixth-grade teacher Margaret Yingst soon struck a deal with him: if he arrived to school on time, she would give him 10 minutes on Friday afternoon to perform for his classmates. He was rarely late again. Blaine-Sumner offered Richard, in a sense, his first sustained taste of what it meant to be a crossover performer.
Finding a Home Onstage, Briefly (1955-1956)
In the spring of 1955, two years after Mrs. Yingst's promotion of Richard's talent, he entered the George Washington Carver Community Center, looking for Carver's Youth Theater Guild—and found, in Miss Juliette Whittaker, the person who showed him his future as an artist.
Juliette Whittaker was the unusual teacher, at the Carver Center, who detected great promise in the young Richard: she took him under her wing, giving him an education not just in the mechanics of theater—writing, acting, set design, directing—but also in the workings of the larger world. The two spent long afternoons in her office, where Richard absorbed Whittaker's racial pride and bohemian sense of the high importance of art and its makers.
At Carver, Richard performed for his first larger black audiences. In the Center's talent shows, facing the mural that encouraged the hard work of racial uplift and warned of the dangers of slipping off the path of righteousness, he served as emcee and as the only comedian on the program, and delighted the crowd of his fellow teenagers and their parents.
Richard's time at the Carver Center was pivotal in his creative development, giving him a sense of the seriousness of art-making and the satisfactions to be derived from it. It was also relatively brief. In 1956, in the middle of his ninth grade year, he was expelled from Central High School after an altercation with his science teacher, and as a result he entered the world that, as a young black man in 1950s Peoria, he had been statistically marked out for: the world of hard manual labor. From this point forward, he would have no more free afternoons to spend in the company of Miss Whittaker.
An Early Plunge into Adulthood (1956-1960)
After his expulsion, Richard fell into a series of desultory jobs. He worked as a bootblack, a janitor in a strip club, a delivery man with his father's trucking business, and as a factory hand folding cowhides—jobs that gave him little in the way of satisfaction. He lived, instead, for the time he spent in the company of his friends, at taverns or hangouts like State Park. With no formal stage like the Carver Center auditorium, he simply broke into performance wherever he was: his close friend Matt Clark recalled how he performed on the streets of Peoria for passersby—not unlike the "wino" character whom he would later make famous. Both Richard and his wino had a hunger for the stage, any stage.
Richard's desire for adventure—and for a ticket out of Peoria—led him to enlist in the Army in April 1959, which turned out to be an ill-fated choice. The Army and Richard were a poor match: by the end of the summer of 1960, he was back in Peoria, having been "eliminated" from the service for having allegedly stabbed a specialist fourth class with a switchblade. (In his memoir, Richard claimed in his defense that the other soldier had laughed at Imitation of Life, a movie that dared to take the sorrows of black life seriously.) He landed in Peoria with twenty-five days of back pay in his pocket, and with a new resolution to make his living as a performer.
First Steps as an Entertainer, Last Years in Peoria (1960-1962)
Richard appealed for a job to Harold Parker, an old friend and neighbor from his early years on North Washington Street, and after a clumsy but nervy audition, Parker allowed him to work both as a bartender and as an emcee at the lively nightclub he ran, Harold's Club, located on a block of North Washington Street that survived the building of the Murray Baker Bridge. At Harold's Club, Pryor started developing a number of characters—the wino who lived on the streets with dramatic flair, the car salesman who enjoyed putting over a lemon—that were wacky and broadly drawn.
With a clientele that mixed old and young, black and white, gay and straight, Harold's Club was a bit too lively for Peoria's authorities, and the city's mayor moved to close it down in July 1961.
By this point, Richard was a married man, one who expected to become a father soon. He had married Patricia Price in June 1961, and with so little money between the two of them, the married couple had set up house by moving in with Richard's grandmother Marie.
Looking for more work as a comedian, Richard turned, then, to another friend from his North Washington Street days: Bris Collins. Collins ran Collins Corner, a club that swung to the beat of R&B and modern jazz and attracted a more exclusively black clientele.
At Collins Corner, Richard continued to hone his fledgling act as a comedian—until some financial irregularities shuttered that club for a while too. A fellow entertainer suggested that Richard join up with a revue, featuring female impersonators, in East St. Louis, and Richard was inspired by the idea, even though it meant leaving his wife and his baby son, Richard Jr., behind.
He felt his future was to be found outside Peoria, and he went off in search of it.
* * *
To learn about Richard Pryor's life after Peoria, go here for an essay on the whole of his life. Or for the fuller story of his time in Peoria and after, go here and buy Becoming Richard Pryor from a book merchant of your choice.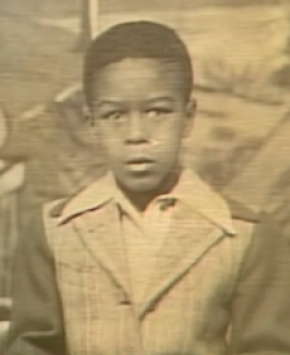 Tweet