Marie Pryor
"She reminded me of a large sunflower — big, strong, bright, appealing. But Mama, as I also called her, was also a mean, tough, controlling bitch."

— Richard Pryor
Richard Pryor grew up in the brothels and homes of his paternal grandmother Marie, a formidable woman who imprinted him with her fearlessness, her capacity for violence, her sense of justice, and the force of her love. She was his rock, but a rough and jagged one.
Tangled with the Law in Decatur (1899-1920s)
Born in 1899 in the rigidly stratified prairie city of Decatur, Illinois, Marie learned early on that, as a poor black woman, her greatest resource was the strength of her personality. Her first marriage, at age fourteen to laborer Roy Pryor, was violent and volatile, but Marie fought back.  She repeatedly lodged assault charges against her husband, leveraging the law so that she could protect herself and her children, before finally divorcing him and leaving behind his name.
Marie had her own moral compass, which at times brought her trouble with Decatur authorities. In an extraordinary incident in 1929, Marie responded to the slapping of a black boy — possibly one of her sons —by cudgeling the white shopowner whom she held responsible for the abuse. Meanwhile she made a living by running a small speakeasy from her home.
Presiding in Peoria (1930s-1978)
In the early-'30s Marie took her four children and her new husband Thomas Bryant, and moved seventy miles northwest to Peoria, where she established herself as a madam to be reckoned with. By 1947, she was presiding over several enterprises at once: two brothels on North Washington Street and The Famous Door, a nightclub and tavern a block away.
After the demolition of North Washington Street in the early-1950s, Marie left the running of brothels to her children. The undisputed backbone of the Pryor family in Peoria, she drew the family together with her own form of tough love, and concentrated on businesses — a beauty shop, a small restaurant, a pool hall — that drew on her capacity for warmth and her head for organization.
Marie outlasted all the members of her Decatur family; she was a survivor. In her last years, the fame of her grandson Richard brought her attention, and she was celebrated in print and on TV for her talent as a soul-food cook. The former madam convincingly portrayed herself as a woman centered around the family kitchen.
When she died in December 1978, her body was returned to Decatur, the city in which she had grown from a girl into a woman of considerable power.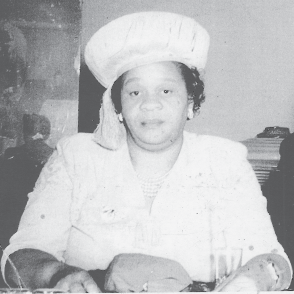 Tweet