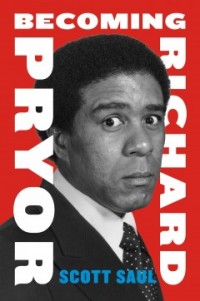 This website is a product of the research behind the first section of Scott Saul's Becoming Richard Pryor (HarperCollins, 2014). (The biography has five sections.)  Eight years in the making, Becoming Richard Pryor offers a groundbreaking portrait of the comedian, tracing his rough journey from a childhood spent in Peoria's red light district to his arrival in the 1970s as the "funniest person on the planet" and one of Hollywood's most unlikely and unforgettable stars.
Pryor was at once both a great truth-teller and a great fabulator. Becoming Richard Pryor reveals that, while Pryor made himself a legend with his own account of his life onstage, the full truth of that life is more bracing still.
* * *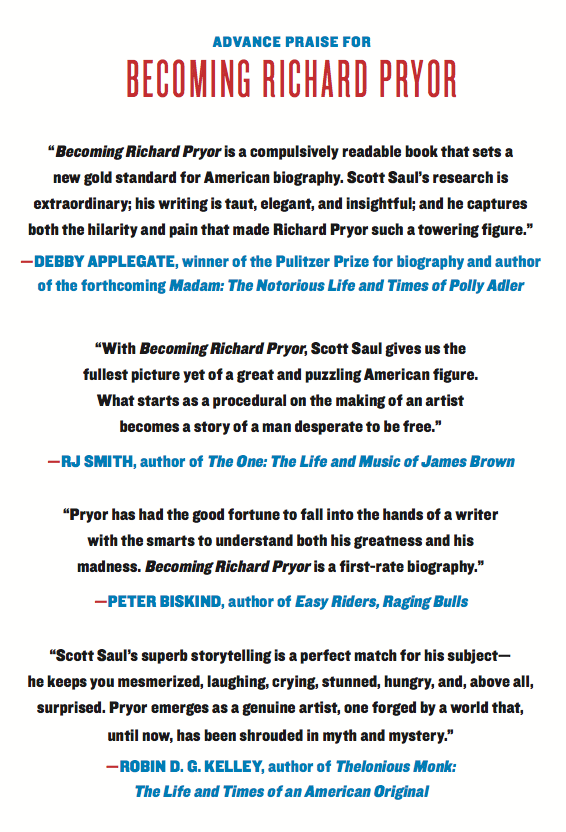 * * *
More praise for
Becoming Richard Pryor: 
An Amazon.com "Best Book of the Month" for December 2014
One of 9 books recommended as holiday gifts by the New York Times
"Sharply observed…Riveting."
— Time Magazine
"Magisterial….Brilliantly reveals the glorious highs and lows of Pryor's life."
— The Independent (UK)
"Endlessly fascinating….A pop-culture masterpiece of exhaustive reporting, psychological insight, and elegant writing."
— Cleveland Plain-Dealer
"Gripping….The only book you need on its subject."
— The Sunday Times (UK)
"Absorbing, incisive…With skill and insight, Saul shows how both the best and the worst of Pryor could merge into a great body of work unmatched by anyone who was ever paid to make people laugh." (Four out of four stars)
— USA Today
"Becoming Richard Pryor is a fascinating, exhilarating read. Scott Saul dives deeper and comes up with more treasure than previous biographers of Pryor; he deftly traces the stamp that Pryor left on American culture at one of its more impressionable moments. The great grace of the book, though, is how well written it is: it makes the worlds Pryor inhabited, and Pryor himself, come alive with a thrilling intensity. I didn't want to put the book down and couldn't wait to get back to  it."
— Michael Chabon, Pulitzer Prize-winning author of The Amazing Adventures of Kavalier & Clay
* * *
Interested in learning more?
Buy Becoming Richard Pryor:
or visit Scott Saul's personal webpage here.
---