Ann Pryor
Ann Pryor brought a touch of religious influence and maternal support into Richard Pryor's life when, on August 16, 1950, she married his father Buck. Like many figures of his childhood, she was a study in complexity: a devout Catholic who took Richard to catechism on weekends and was a committed member of her parish, but worked in brothels for two decades.
Born in New Orleans in 1921, Ann was a light-skinned Creole woman who could have easily passed for white but chose not to. Upon arriving in Peoria in 1947, Ann landed at China Bee's North Washington Street brothel, a few doors down from the brothel operated by Richard's family. After marrying Buck in 1950, Ann left China Bee's brothel and began working in the Pryor family business.
In the early years of her marriage to Buck, Ann took an active role in the life of her stepson Richard. She took him to church, fought with the school principal to keep him in the fourth grade, and even enrolled him in a private Catholic school for fifth grade. Unlike his father, she had a warm personality and an infectious smile; photographs of her "on the town" suggest how much she enjoyed herself — with style — in Peoria's 1950s nightlife.
Despite suffering from mouth cancer in the 1960s, Ann continued to earn money for the Pryor family in the brothels they ran. In May 1965, a police raid on a Pryor family brothel on Aiken Avenue led to her arrest. Unlike Buck, who in a raid four months later ran from the police and refused to admit wrongdoing, she acknowledged, according to police, that she was helping to run a brothel.
Ann appealed her case all the way to the Illinois Supreme Court, citing the intervening fact of her cancer and arguing that there were procedural irregularities with the raid. Though the appeal was rejected and she was remanded to the Illinois Woman's reformatory for a year, the sentence appears never to have been served: her cancer had progressed too far. In the last hours of 1967, Ann took her final Communion and received her last rites. She passed away on New Year's Eve.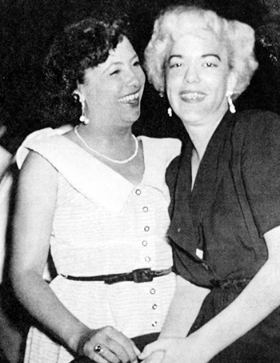 Tweet